July 3, 2023
Top 9 Home Decor and Furniture Tips to Host an Unforgettable Fourth of July BBQ
The Fourth of July is a time to gather with friends and family, enjoy the summer weather, and celebrate the spirit of independence. One of the best ways to mark this patriotic occasion is by hosting an unforgettable Fourth of July BBQ. Let the vibrant colors and flavors of the season inspire your outdoor celebration.
To ensure your event is a resounding success, we've curated a list of essential home decor and furniture tips that will elevate your celebration to new heights.
Create Ample Seating Space
Set up a Welcoming Outdoor Dining Area
Provide Shade and Shelter
Incorporate Convenient Outdoor Storage
Set the Mood with Festive Lighting
Embrace Patriotic Decor
Create Entertainment Zones
Enhance Comfort with Outdoor Cushions and Pillows
Craft a Refreshing Beverage Station
Make Your Fourth of July BBQ Memorable with These 9 Furniture and Decor Tips
From comfortable outdoor furniture options to festive decorations, let's explore how you can create a memorable and enjoyable BBQ experience.
1. Create Ample Seating Space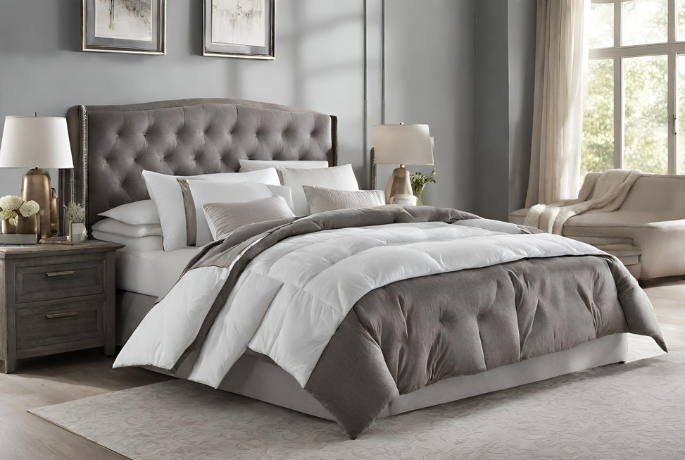 Don't leave your guests standing! To ensure your BBQ bash is a hit, it's essential to have an abundance of seating options. Get creative with your outdoor furniture by combining patio sets, lounge chairs, an outdoor dining table, and benches to create a comfortable and inviting space.
Choose durable materials like weather-resistant wicker or sturdy frames with cushioned seats that can withstand unpredictable elements. With plenty of seating available, everyone can relax, unwind, and fully embrace the festive ambiance of your gathering. Let the laughter and conversations flow as your guests enjoy the ultimate BBQ experience.
2. Set up a Welcoming Outdoor Dining Area

Create a warm and inviting outdoor dining space that sets the stage for your Fourth of July BBQ. Choose a durable and spacious table that accommodates your guests comfortably, whether it's a charming picnic-style setup or a large outdoor dining set.
Take it up a notch by adding patriotic-themed tablecloths, napkins, and centerpieces that bring a festive touch to the atmosphere. Make sure you have an extra set of outdoor dining chairs in case unexpected guests show up. This designated dining area will not only serve as a gathering spot for delicious food and great conversation but it also creates a welcoming ambiance that embraces the spirit of the occasion.
3. Provide Shade and Shelter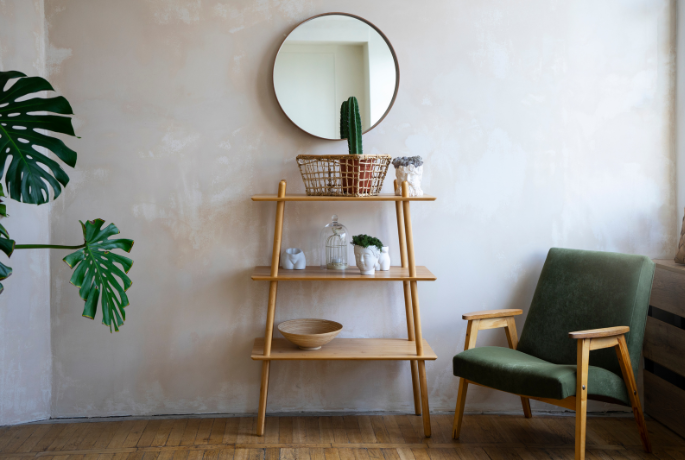 Make sure your guests stay comfortable and protected from the sun and rain by providing ample shade and shelter options. Set up large umbrellas or a stylish canopy to create shady spots across your outdoor space. Utilize existing structures like a pergola or covered patio for additional protection.
Remember, apart from getting comfortable outdoor furniture, keeping your guests shielded from the unpredictable weather is critical to hosting a successful BBQ. They'll be able to enjoy the day without worrying about getting too much sun or getting caught in a sudden shower.
4. Incorporate Convenient Outdoor Storage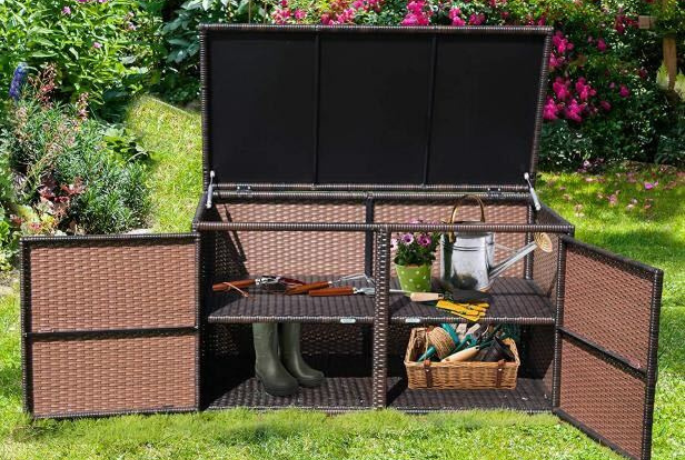 Don't let clutter dampen your BBQ spirit! Make sure you have convenient outdoor storage options to keep things organized. Invest in storage bins or deck boxes to tuck away essentials like extra cushions, outdoor games, and BBQ tools. It's a practical solution that frees up space and keeps everything within reach when you need it.
No more searching for misplaced items or tripping over scattered belongings. With everything neatly stowed away, you can focus on grilling, chilling, and enjoying the festivities without worrying about small issues.
5. Set the Mood with Festive Lighting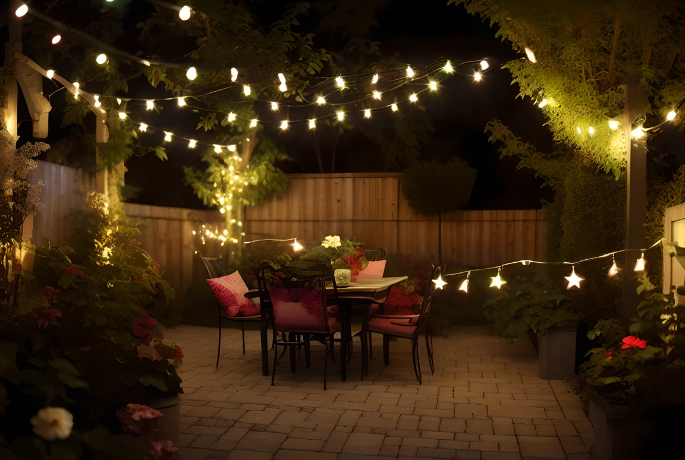 To set the perfect mood for your Fourth of July BBQ, don't forget to incorporate festive lighting into your outdoor space. Transform the ambience with the mesmerizing glow of string lights, delicately hung across your patio, deck, or backyard.
You can also amp up the charm by using lanterns, candles, or LED pathway lights, adding a touch of magic as the sun sets and the evening takes over. These simple yet enchanting lighting choices will create an inviting and warm atmosphere, ensuring that your guests feel right at home as they celebrate under the starry summer sky.
6. Embrace Patriotic Decor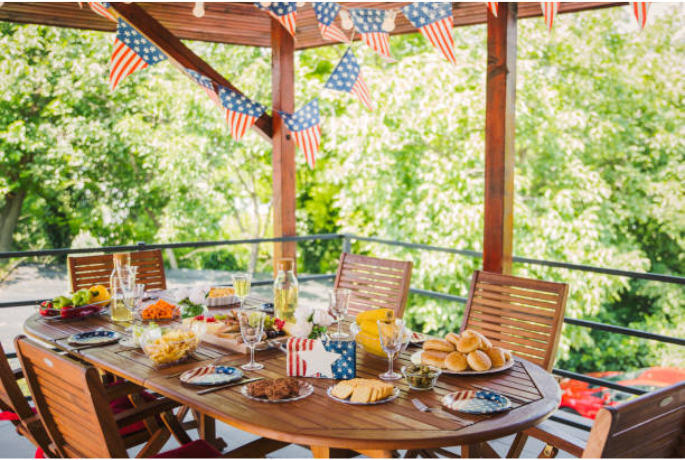 Get into the Fourth of July spirit by decking out your outdoor space with patriotic decor. Sprinkle American flags, bunting, and red, white, and blue accents throughout the area to truly embrace the occasion. Take it a step further by incorporating themed throw pillows, table linens, and banners, creating a cohesive and festive atmosphere.
Let the colors of freedom and unity shine bright in every corner of your outdoor setting, setting the perfect backdrop for a memorable Fourth of July celebration. Enjoy a festive atmosphere filled with joy and excitement as you gather with friends and family, creating unforgettable moments amidst a vibrant tapestry of red, white, and blue.
7. Create Entertainment Zones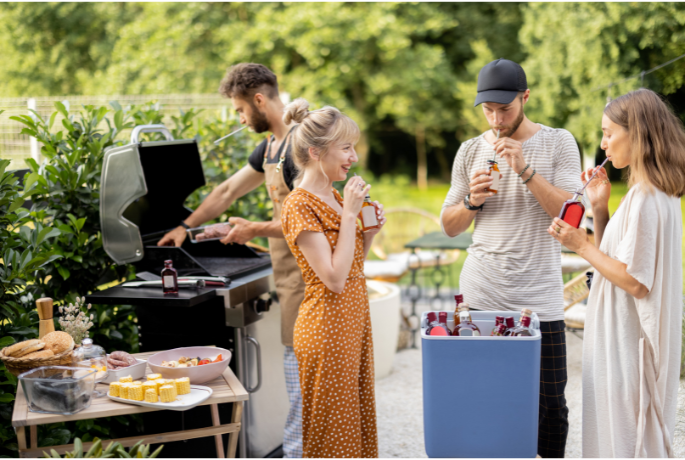 Keep your guests entertained throughout the day by creating dedicated zones for various activities. Designate an area specifically for outdoor games like cornhole, badminton, or a friendly game of horseshoes. To add a cozy touch, set up a fire pit where people can gather for storytelling and s'mores, creating a focal point for relaxation and lively conversations.
By offering different entertainment options, you ensure something for everyone, fostering a vibrant and engaging atmosphere that will keep your guests entertained and enjoying themselves throughout the event.
8. Enhance Comfort with Outdoor Cushions and Pillows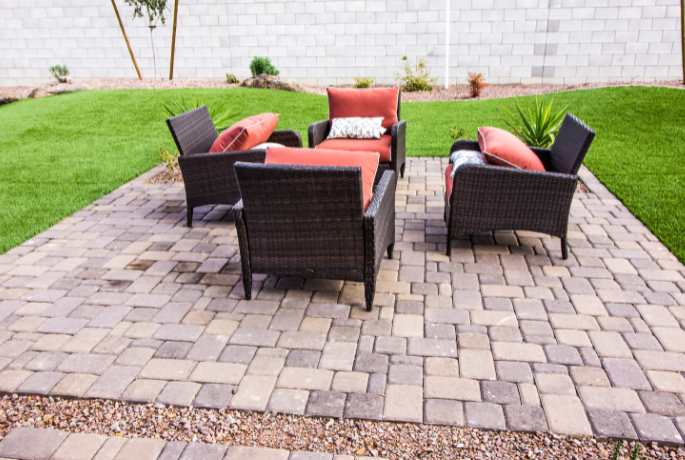 Take your outdoor seating to the next level of comfort by incorporating plush cushions and pillows. Opt for durable fabrics in patriotic hues or patterns that seamlessly blend with your overall aesthetic. These soft and inviting additions not only add a touch of visual charm to your outdoor furniture but also offer your guests an extra layer of coziness as they relax and soak in the festive atmosphere.
When hosting a Fourth of July BBQ, don't forget to prioritize comfortable furniture, ensuring your guests and pets can relax and enjoy the festivities in utmost comfort. Whether sinking into a cushioned chair or relaxing with some pillows on a bench, the enhanced comfort will ensure that your guests feel right at home.
9. Craft a Refreshing Beverage Station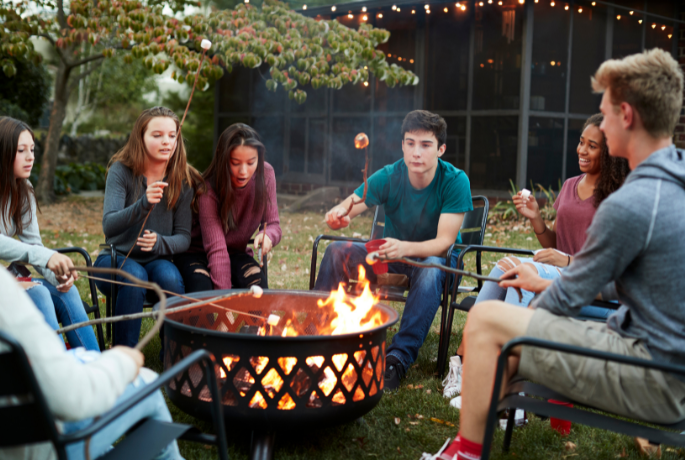 Offer your guests a refreshing retreat with a thoughtfully arranged beverage station that ensures they stay cool and hydrated throughout the festivities. You can use an outdoor dining table as a counter and set up an ice bucket or cooler filled with an array of chilled drinks and an abundance of ice.
Provide a variety of invigorating options, including infused water, zesty lemonade, refreshing iced tea, and signature Fourth of July cocktails. Enhance the station's allure with festive drinkware, colorful straws, and fresh fruit garnishes, guaranteeing a delightful and thirst-quenching experience that adds a vibrant touch to your celebration.
Conclusion
Hosting an unforgettable Fourth of July BBQ is all about creating a welcoming and enjoyable outdoor space for your guests. By following these essential furniture and decor tips, you can elevate your celebration to new heights.
From comfortable furniture options to festive decorations and thoughtful amenities, every detail contributes to a memorable and successful event. Embrace the patriotic spirit, unleash your creativity, and make this Fourth of July BBQ a truly unforgettable experience for everyone involved.